Wheelchair Story:
()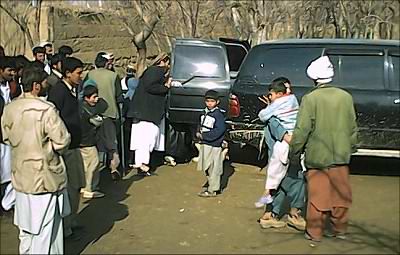 The boy being carried is who the chair is for.

What is the wheelchair for?
Taken from email by SSG Williams:

"The Civil Affairs team over here sponsors a "Help A Village Program" where units can donate clothing and school supplies, then go out to these villages with CA and take pictures, etc. I went on one of these trips, and that's how I found/met the handicapped child. I wanted to do more than hand him a couple of pencils and say "Have a nice day", so I thought a wheelchair would help. His buddies literally dragged him up to the truck for a couple of pens and pencils. Very touching sight. Anyway, that's how I began getting this wheelchair thing going."

"The patient is a 7-8 year old male, paralyzed from the waist down. About once a week our hospital receives children missing legs from minestrikes in the area. The chair will be for this particular child, but would in reality become a village asset that would more than likely serve many people. The chair should not be motorized, and the tires should be able to handle a hard packed dirt road. I don't know anything about chairs but even if the ideal setup is not available, these people are extremely resourceful and could work with anything."
---
How Any Soldier Inc. got involved:
Late January a Pamela McInnes, who has been supporting soldiers, contacted Any Soldier Inc. and told us of a soldier in Afghanistan, Staff Sergeant Williams, who was helping folks and needed a wheelchair for a crippled 7-year old boy he met. She was willing to get a wheelchair, but found out that the box was too big to send through the mail. We had been in contact with a Mr. Don Thompson, owner of McArthur Medical in Charlotte, North Carolina, who was busy getting medical supplies for Captain 'Doc' Heath of the 173rd Airborne Brigade. We knew Don was also getting wheelchairs so we asked if he would help. He was quick to do so. We then started to research ways to get the chair to Afghanistan. The DOD sponsored, taxpayer-funded Denton Program, took 9 days to return calls, and turned out to be completely unhelpful. Their director, Dana Alzouma told Don in no uncertain terms that he could not get a wheelchair to Afghanistan. That did it, Don shipped the chair via DHL, at a huge cost. Don paid for the chair, accessories, and half the shipping out of his own pocket, your donations to Any Soldier Inc. paid for the other half of the shipping. The shipping bill for that one chair was $1,092.61!
The chair arrived in Afghanistan 14 February and was delivered to it's new owner on 3 March 2004.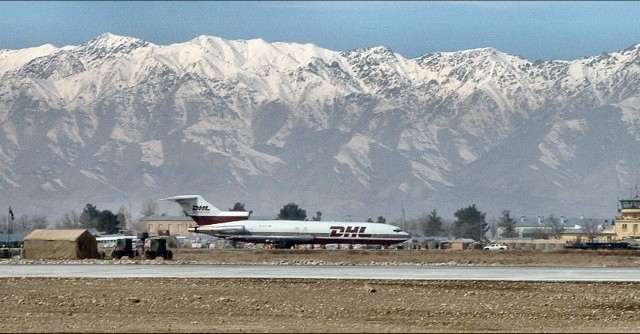 The chair arrives!


Hmmm, didn't know these had racing slicks...


Email of 3 March 2004 from SSG Williams in Afghanistan:

"I took these pics today! Thanks to all that made this happen.
School supplies, clothing, candy, personal hygiene items, and Beanie Babies were also distributed."



Young man finally gets his chair, 3 March 2004!!


A pretty face in the crowd.


Distributing donated candy, beenie babies, and toys.


Kids waiting in line for goodies.
---
Now what?
This is just the beginning. SSG Williams' replacement needs at least 5 more wheelchairs which we already have, but transporting them will cost, and we need your help. Don Thompson and Any Soldier Inc. are working with DHL and other carriers to see if they can do better on the rates, and we are actually looking to the North Carolina Air National Guard for help. More news soon (we hope).
---