Everyone mark your calendars to join us June 12th in Ithaca, Michigan for a great day!!
Ithaca Fairgrounds, Michigan
This ride is 125 miles which includes a covered bridge, rolling hillsides and beautiful scenery in Mid-Michigan.
Ride fee ($25 for pre-registration, $30 day of ride) includes donuts and coffee before and dinner afterwards.
Ride ends with music, prize drawings, an auction and raffle for a motorcycle trailer!
NOTE: You do NOT have to ride a bike to join us! Cars (AKA: 'cages') welcome too!!
(Michigan requires
ALL
riders to wear a helmet.)
Print and mail this Registration Form
or
Pre-register online option: HERE.

Pins for the first 250 registrations!
RAFFLE FOR A MOTORCYCLE TRAILER!!!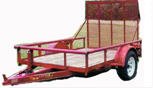 The trailer is locally manufactured by Shaw's Sales. Measures 77" wide x 10' long. Has split 4' mesh ramp gate, set back 5,000 lb flip up crank jack, 15" tires, 2" ball, comes in black (not red as shown), approx $1,500 value!!! Tickets can be purchased by ANYBODY, not just riders!! Raffle tickets available HERE.